INTRODUCTION TO
Organic Lamb
Island Farm Foods Certified Organic Lamb is produced in an environmentally sustainable way with 100% grass-fed animals raised on land rich in biodiversity and wildlife. We are located beside the beautiful Clara Bog Nature Reserve which is the finest example of a raised bog in the world today. We live by our core values of implementing our self-imposed high animal welfare principles and also in everything we do, we are kind to the environment. Our lamb comes from animals who have spent at least six months grazing clover rich organic grass. This grazing regime delivers a distinctive and hearty flavour to our meat which compliments any recipe and enhances rich sauces.
When purchasing a whole lamb, it contains a fantastic selection of steaks and chops, tasty roasting joints so you are guaranteed to have a cut to satisfy a quick meal during the week or for a more sophisticated and impressive feast for a special occasion with friends and family.
When you buy a whole lamb online or direct from our farm shop, it is expertly butchered and crafted into its component parts including joints, cuts and chops. For your convenience, we place the organic lamb in transparent labelled freezer bags ready for your freezer. If you would like the lamb to be cut in a specific way that our online options haven't allowed, please contact our team directly. We can cut your lamb to your exact specifications. This is one of the benefits of being craft butchered ensuring you of a quality product exactly how you want it.
Our Shop
100% Certified Organic Lamb
What do I get when I buy a Whole Organic Lamb?
You can order a half or whole lamb per your requirements.
Early Bird Offer – Half Lamb €90 Whole Lamb €180 (Offer Expires September 2021)
Meat Cut
½ Lamb
Whole Lamb
Options
Notes
Leg
½ Leg & Fillet
or


1 x Full Leg Whole or Butterflied

Two Legs Whole or Butterflied
½ leg & Fillet
or 1 whole leg
or 2 x ½ Legs & 2 x Fillets
or 1 x ½ Leg & 1 x fillet & 1 whole leg (or butterflied.
Legs have bone in as default if bone is required out please pick the butterflied option.
Shoulder
1
2
Centre Loin Chops
9 approx.
18 approx.
Shoulder Chops
5 approx.
10 approx.
Cutlets
10 approx.
20 approx.
In Rack or Cutlets
Full rack – if required in half racks please place an order via phone.
Neck & Belly
1 Bag
2 Bags
In Mince or Diced
Offal
Bag of Liver
2 Bags of Liver
1 Heart
2 Kidneys
Offal is supplied as standard if not required tick the box.
Above is how we recommend you order your lamb from our years of experience testing and tasting our own product!  All lamb is delivered blast frozen but can be delivered fresh by request. All items are bagged and labelled for your convenience. Please remember: the lamb can be butchered to your order if your order is placed in advance. Once your order has been received, we will contact you to confirm your order and expected delivery date. Many different delivery options are available.
How To
Storing Your Lamb
Depending on the cut, lamb will keep for 2 to 4 days in the coldest part of your refrigerator. If you buy a whole lamb, or half a lamb from Island Farm Foods, you will need a reasonable amount of freezer space. A whole lamb takes up 2.5 drawers of an average tall freezer. You can store lamb in your freezer at -8°C (-18°F). A cut of lamb will keep for 6 to 9 months – ensuring that you can always have something on hand to prepare for that impromptu meal. You should keep minced lamb for no more that 4 months in your freezer. All our Organic meat is labeled and dated for your convenience.
Get cooking
Lamb Recipies
Saturday Mornings I love to watch BBC Saturday Kitchen – Matt Tebbutt created this one. Ingredients For the Island Farm butterflied leg of lamb 3 garlic cloves, minced 1 tbsp coarse black pepper 3 sticks rosemary, leaves picked and roughly chopped 2 bay leaves,…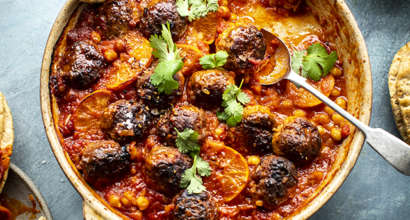 Good old Donal has put together this recipe for us. This recipe can be used for lamb or beef mince. For the meatballs: 500g Island Farm minced lamb 1 small onion, finely chopped 3 garlic cloves, finely chopped 1 large egg 2…